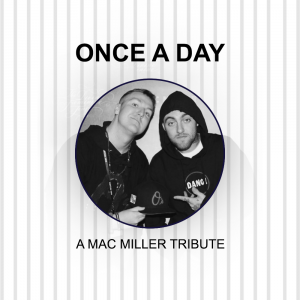 BALTIMORE, MD – On Malcolm McCormick's would-be 30th birthday, Andrew has come together with friends and family to perform a cover of his favorite Mac Miller song, "Once A Day." AWALL's main interest in Malcolm's music sparked his musical ambition to learn the piano because of the original song published in the "Circles" album in 2020.
To Andrew, Malcolm was and still is an extremely important influence in his career and hopes that his work can relate to Mac's music legacy and audience whilst paying continual tribute to him.
Andrew "AwallArtist" Cornwall has used this opportunity to make "Once A Day" a meaningful release and a first time cover, introducing him to replaying and retaking of cherished songs with unique twists.
A few honorable mentions go out to videographer, Cory Schwab (CDSVISIONS), Chris Honsberger (deltaNINE/CHONSEE) on Mixing & Mastering, The Sheffield University for the Recording Arts which provided their one of a kind studio and Chris Grainger (TechPod Social) in creating the cover art and marketing efforts.
Once A Day has been in the works for almost a year – as he waited for the right time – Andrew is ready to show his many hours of piano lessons and singing practice in honor of Mac Miller.
As Mac Miller passed on the 7th of September, 2018, both Andrew and TechPod Social wanted to reiterate the important message of staying resilient to drugs and always being responsible. If you require medical assistance or guidance and want to take action, visit USA.GOV/mental-health-substance-abuse.
This press release from AWALL has been made possible through his company, Unidentified Enterprise LLC, as well as his associates at TechPod Social.
For more information about this release, please contact:
Andrew Cornwall
Copyright 2022 – Unidentified Enterprise LLC and its affiliates.